Take advantage of our expertise and advice!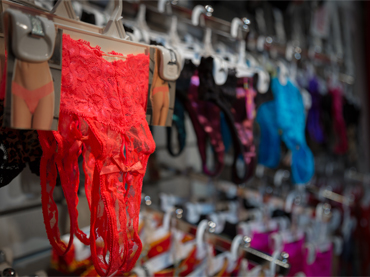 SEX SHOP IN LAVAL
For over 25 years now, Johanne, the owner of La Boutique Carrefour du Sexe Inc. has greeted clients in a warm and friendly way. Although her humble 2500 square foot boutique is certainly not anything to envy, it gives you access to the widest choice of accessories and erotic toys in the North Shore. With an inventory of over 3000 in-store items and thousands more available on order this sex shop offers innumerable choices.
Female Staff
Our female-only qualified staff welcomes you 7 days a week, and are fully trained with all the knowledge necessary to properly answer all of your questions.
No other sex shop in Laval is so un-intimidating. Our erotic shop is clean with a changing room to try on your sexy new underwear. Here, you will discover a wide variety of erotic lingerie for all sizes.
ADULT ENTERTAINMENT
You'll find everything in our erotic store to please even the most ardent connoisseurs as well the newly initiated: erotic games for couples, sex toys for men or women, lotions, massage oils and lubricants, sensual literature as well as many erotic DVDs in English and French including the complete collection by the famous Parisian producer Marc Dorcel.
First Impressions Make All The Difference!
We believe that your first visit to a sex shop must occur in a pleasant atmosphere, one where you can be at ease to ask questions confidently and without feeling embarrassed. We are the reference for Sex shops in Laval and our staff will ensure you receive absolute discretion!
Year after year, our store is proud to see loyal customers who always come back to ask us for advice whenever they need it.
Johanne and her team welcome you!
Our customers appreciate:
+ The North Shore's Best Choice
For a quarter century now, we have been satisfying your adult entertainment needs. Our range of combined services give you access to the widest selection of items for purchase in the North Shore: erotic games, erotic lingerie and sex toys of all kinds. Twenty-five years to satisfy you and introduce you to thousands of products.
Personalized Service
Our priority is to offer you quality service that is specific to your needs. Our regular clientele can testify to that: Boutique le Carrefour du Sexe Inc., provides you with excellent service even after you buy. In our eyes, every customer is important and we always make sure they leave fully satisfied.
Accessibility / Privacy
Only 20 minutes from Montreal, our Sex shop in Laval is easily accessible. We are open longer to serve you better. We are open 7 days a week and until 9pm for five nights a week. We pledge never to disclose any of your personal information to anyone. Your confidentiality is sacred to us.